Shared Path Encouraging Real Estate Developers to Foster Better Indigenous Relations
Written by Admin, Admin •
On the morning of Friday, June 10th, roughly 50 leaders from about 25 of the most influential companies working in the real estate development industry in the GTA gathered at the John H. Daniels Faculty of Architecture, Landscape, and Design to talk about how they can foster good relationships with Indigenous Nations and what role they can play in truth and reconciliation with Indigenous peoples. These participants came with open hearts and minds to be part of an important, and sometimes difficult, conversation about our shared history as Indigenous and non-Indigenous peoples in Canada.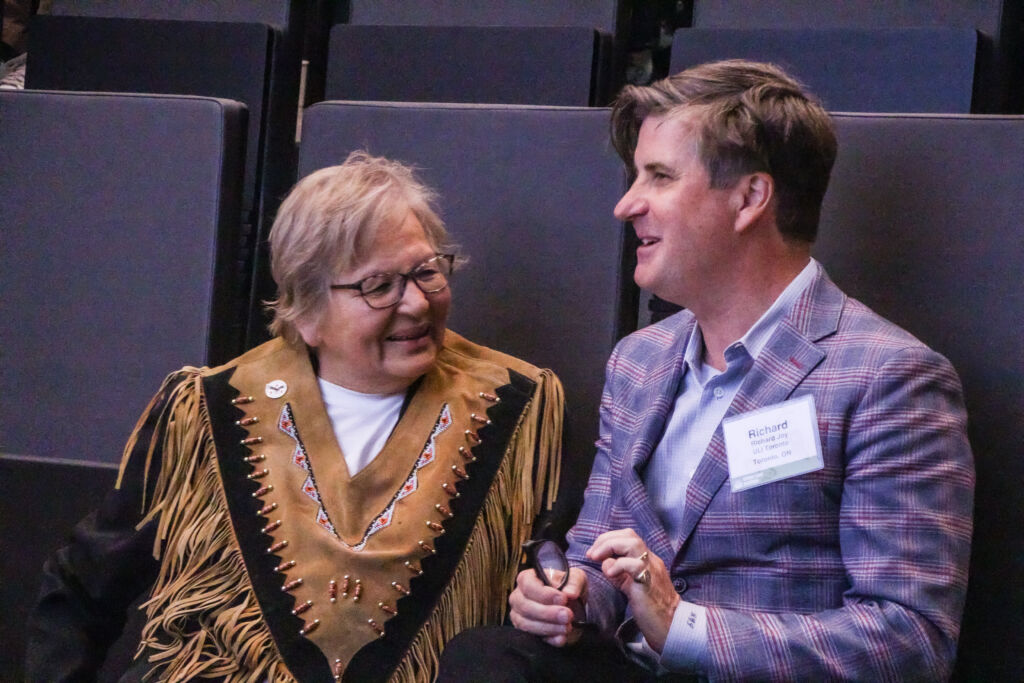 The day began with some words of welcome and opening thoughts from Richard Joy, Executive Director, Urban Land Institute Toronto (ULI), Michael Emory, Founder, President and CEO of Allied REIT, Ian Gillespie, Founder, President and CEO Westbank, and Carolyn King, former Chief of the Mississaugas of the Credit First Nation and Co-Founder of Shared Path Consultation Initiative.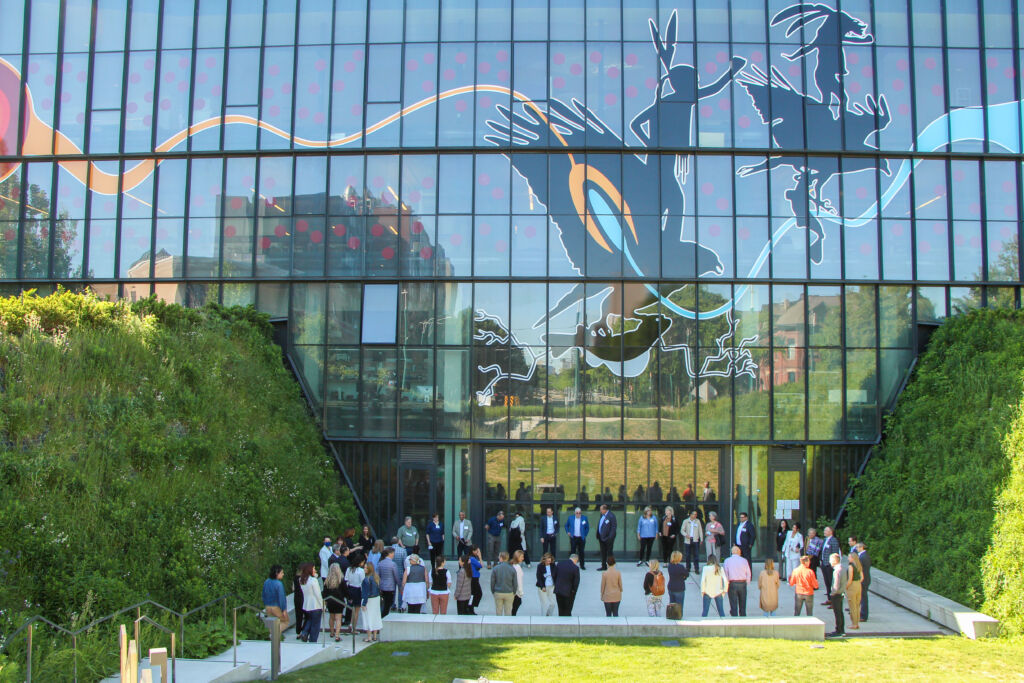 The group was then invited to move to a beautiful outside courtyard to participate in a smudging ceremony led by Laura-Lee Campbell and Sandra Campbell. The ceremony took place with the backdrop of a striking and moving mural, named ambe magada, created by Indigenous artist Que Rock in honour of the 215 children found in unmarked graves at Tk'emlúps te Secwepemc First Nation in 2021 and those who continue to be found in unmarked graves across Turtle Island. The smudging ceremony was an important ritual to observe to help put participants in a good state of mind to receive the teachings of the KAIROS Blanket Exercise (KBE) and to bond as a group.
The next two hours were emotionally and intellectually demanding as Laura-Lee and Sandra, along with volunteer Michael McMorrow, led the group through the KBE. All participants should be commended for the courage they displayed by willingly stepping into a place of vulnerability and engaging deeply with these difficult topics.
As described by the KBE creators, the exercise "is an experiential teaching tool based on participatory popular education methodology and the major themes and findings of the 1996 Royal Commission on Aboriginal Peoples. Participants step onto blankets representing the land, and into the role of First Nations, Inuit and later Métis peoples. Facilitators read the script and assume the role of Narrator and European explorers and settlers. The exercise builds awareness and understanding of our shared history as Indigenous and non-Indigenous peoples in Canada by having participants literally walk through situations that include pre-contact, treaty-making, colonization and resistance. Participants are drawn into their roles by reading scrolls and carrying cards which ultimately determine their outcomes. By engaging on an emotional and intellectual level, the KAIROS Blanket Exercise effectively educates while increasing empathy. It reaches both the mind and the heart. It is contributing to a movement for reconciliation through education across the country."
Following the scripted portion of the exercise, participants split into two sharing circles, facilitated once again by Laura-Lee and Sandra. Each participant was invited to share their thoughts and reflections on the exercise. Many participants expressed that they were deeply impacted by the exercise, that they may have known bits and pieces of the history of colonization, but that to experience the history as a series of cumulative negative impacts on Indigenous communities brought new understanding and empathy. Some participants were themselves Indigenous and spoke of the importance of non-Indigenous peoples learning and acknowledging this history before attempting reconciliation. Many participants expressed optimism that with exercises like this, we as Indigenous and non-Indigenous peoples, are starting a healing process. While participants were encouraged to sit with their reflections on the difficult truth of our history, many folks were moved to talk about the future and potential ways forward for reconciliation. We completed this portion of the workshop with some reflections and closing thoughts from Michael Emory and Carolyn King.
The final portion of the workshop involved sharing a meal together, catered by the Pow Wow Café and featuring locally inspired dishes such as venison and sage meatballs in mushroom jus, frybread with sumac butter, wild blueberry crumble, and cedar flavoured soda. Sharing and appreciating food together afforded participants a break between the intense experience of the KBE and continuing with their workday. It also provided an opportunity to connect and share with each other and to interact with guests including Bob Goulais, Anishinaabe from Nipissing First Nation and founder of Nbisiing Consulting Inc., Tanya Hill-Montour, Mohawk member of the Six Nations of the Grand River and Archaeology Supervisor for Six Nations, and Eladia Smoke, Anishinaabekwe from Obishikokaang, Lac Seul First Nation and founder of Smoke Architecture.
Finally, participants were invited to stay for a tour of the Daniels building, generously provided by University of Toronto staff. We would like to thank Daniels faculty and staff, including Nene Brode, Lara Muldoon, and Hamed Nadi, who were essential in making this workshop happen.
This Post Was Published On November 3, 2022. Last Updated November 3, 2022